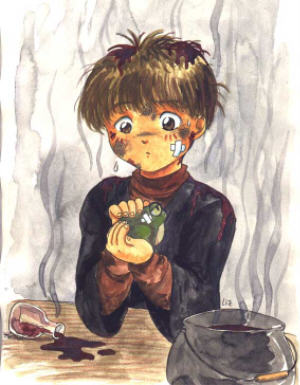 Welcome to Harry Potter for Muggles (HPFM, for short)! This site is your gateway to information about Harry Potter and a whole lot of fun! The beautiful artwork is by Ayla Pascal, visit her site here.

So, feel free to browse around! To get started, why not visit the updates page? Or, perhaps, find your favorite character in the Character Dictionary? (found in the information section) Or, if you prefer humor, go look at HPFM's own advice column, Marisol and Snape Explain it All, and let Snape and I answer your questions! (found in the interactive/fun stuff category). And, as always, if you have questions/comments or whathaveyou, feel free to email me! Whatever you do, enjoy your stay!
**New Section** And She Rants...
Sign My Guestbook
View My Guestbook
SiteRing by Bravenet.com
What's New?

Last updated: February 24, 2003

Want to get in touch with me?

This site copyrighted 2000-2002 by Marisol Jackoweskla. That means it's mine, not yours!

Harry Potter and all related people, places, and merchandise are owned by a lot of companies including Bloomsbury, Scholastic, Warner Bros. the author, J.K. Rowling, and a whole lot more.